What would you think if we told you that there were products on the market that were effective, actually good for your hair, and there were stylists behind those products with a laser focus on your satisfaction? Would you believe it? These are all values of Aveda salons, such as High Maintenance Salon. Here are some of the values that make up the Aveda difference that you can expect to experience when you walk through the doors of an Aveda salon.
Products That Are Good for Your Hair
People are often nervous about using a lot of product in their hair, and honestly, much of this worry is warranted. However, what is different about Aveda products is that they are actually good for your hair. Hair color especially is one of those products that makes people nervous. The chemicals and dyes used in hair color can be very harsh on a person's hair.
On the other hand, Aveda color is 97% natural, meaning you are putting fewer chemicals on your hair when you have it colored (http://avedadifference.com/). In other words, when you visit an Aveda salon, your hair is fed precious nutrients that it needs rather than being burned or damaged by heavy chemicals. If you are skeptical, the information for all Aveda ingredients is available online by doing a simple internet search.
Trained and Acclaimed Stylists
Aveda products are known worldwide as being safe and healthy for your hair, but Aveda stylists are also world renowned for being some of the most successful and acclaimed in the beauty industry. The Aveda motto is "Do what you love, love what you do," and they do make sure that their stylists enter and leave the program with opportunities to love what they do and make sure that they are very good at it.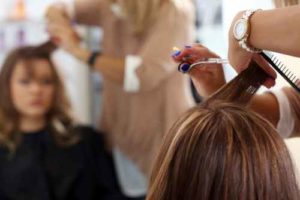 Priority on Your Satisfaction
At Aveda salons, your satisfaction will be top priority. Stylists are trained in many different areas, so if you need your hair done followed up with a facial and a French manicure, you could probably get it all done in one trip. When going through their education, Aveda stylists are offered the opportunities to work hands-on with clients, and even if you work with someone who is relatively new to professional styling, an Aveda education means that they are experienced working with real world clients. Many other programs primarily use dummies to teach their aspiring artists, and this, as you can imagine, is not nearly as effective as working with a person. You will get a better cut, a better color, and will have an overall better experience at the salon when you choose Aveda.